How It Works
Algopron optimizes apron operations by analyzing and collecting data from video streams in real-time.
1
Receiving Video Streams
Algopron receives live video streams from the cameras installed at apron, aircraft stands or aerobridges.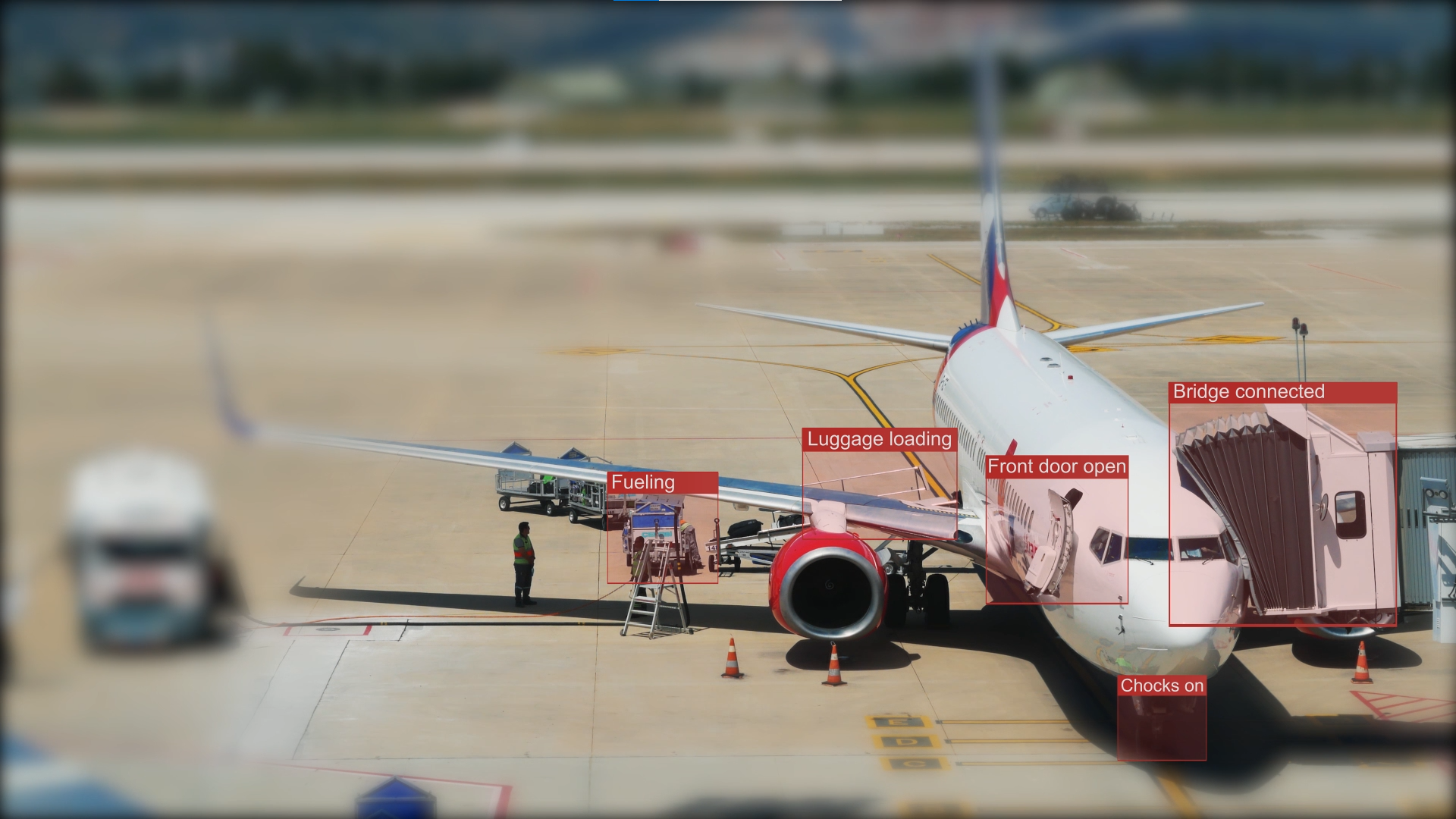 2
Processing Video Streams
Algopron processes live video streams and detects all related operations in real-time.
3
Algopron generates a detailed report for each of the operations with their timestamps taking place during turnaround and produces real-time alerts in cases of delays or violations of safety regulations.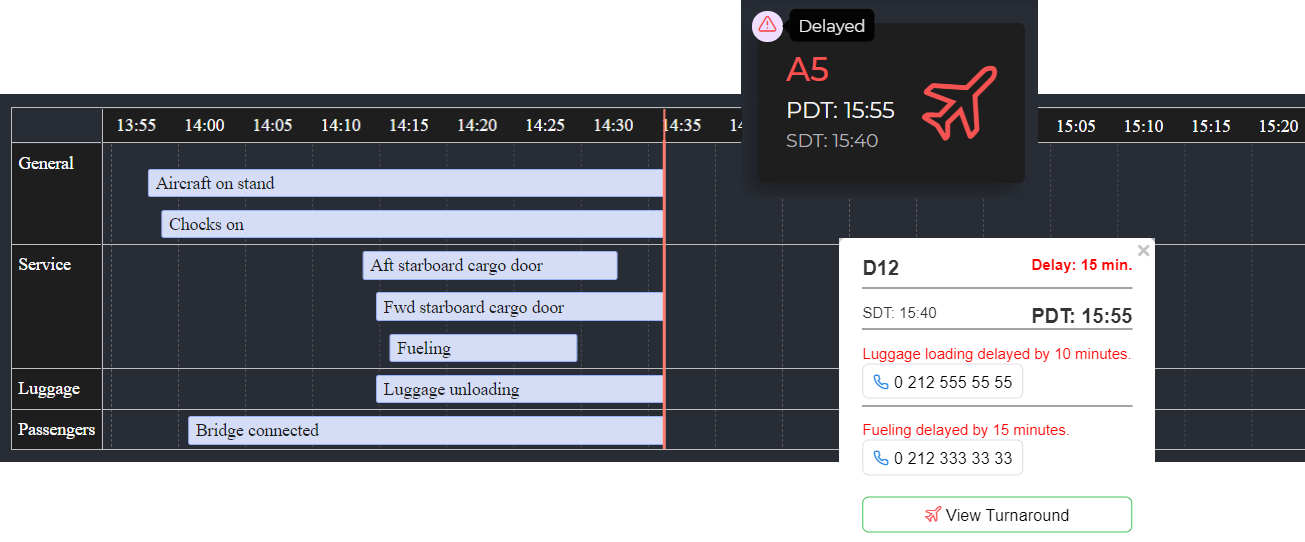 Benefits
Optimizing apron operations with safer, faster and more predictable aircraft turns.
Real-time control and monitoring
Accurate and verified service-level billing
Prevent incidents and accidents on the apron
Lower safety related costs
Eliminates operational costs associated with delays
Better utilization of aircraft and Ground Support Equipment
More on-time boardings and happy passengers
Accurate prediction of departure time
Provides a detailed turnaround performance analysis
Better planning and decision making
Helps keeping fuel and power consumption at a minimum
With mobile operator panel turnaround operations are in the hands of operating staff
Technology
We designed the Digital Apron by utilizing Computer Vision and Artificial Intelligence.

Artificial Intelligence
Algopron is designed based on Artificial Intelligence technology that help us in automatic and accurate tracking of turnaround operations.

Machine Learning
Our advanced machine learning algorithms detect all important turnaround operations implemented by different stakeholders at apron and make accurate predictions.
Deep Learning
Algopron is powered by Deep Learning techniques, which make detection of turnaround operations reliable even in the most complex environments.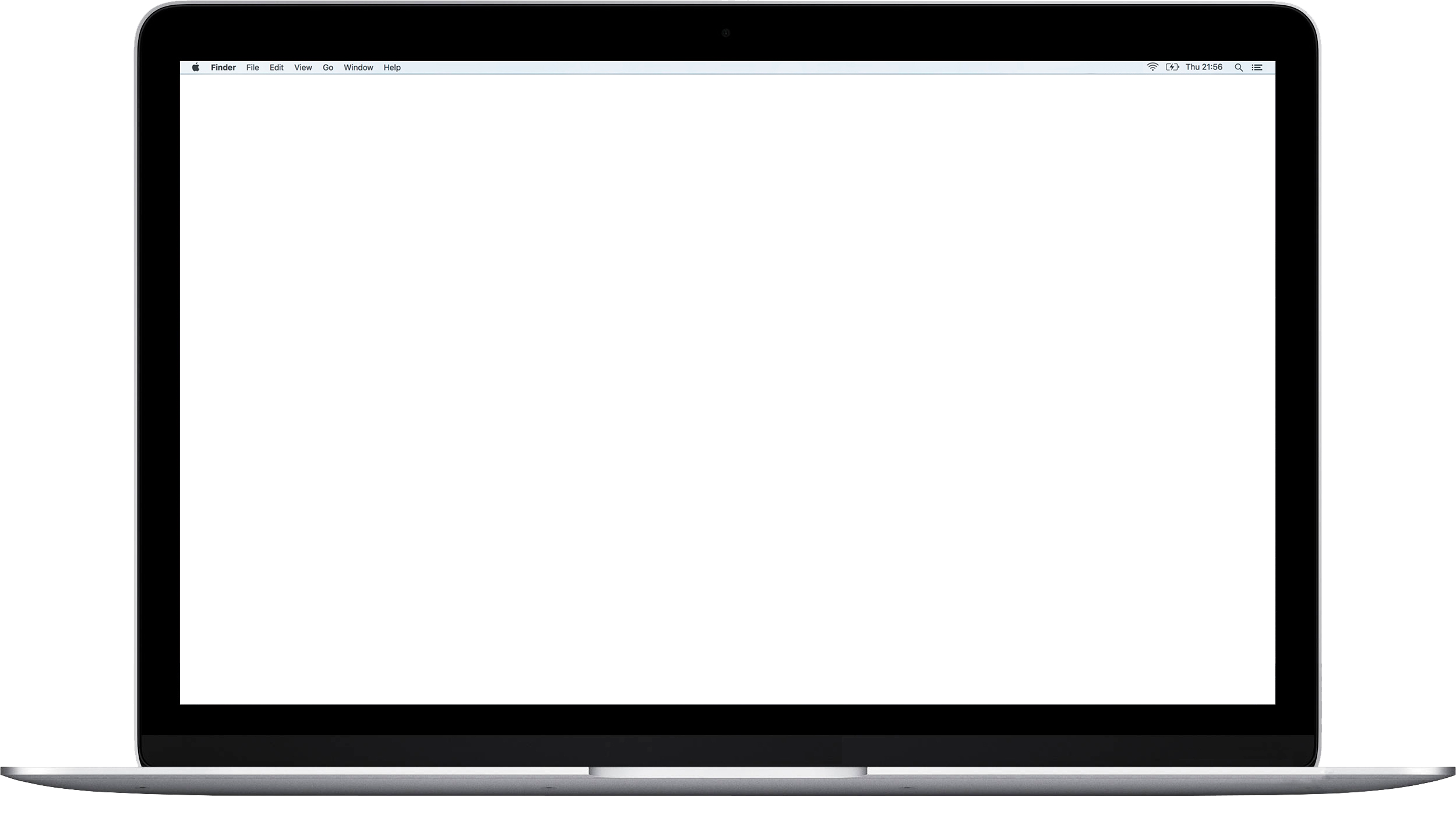 Real-time video processing
Algopron processes video streams in real-time with high accuracy. Moreover, our system can be customized based on customer's requirements for detecting and tracking different types of operations at apron.
Live Monitoring of Turnaround Process
Algopron allows monitoring turnaround operations in real-time. Moreover, the system notifies you of possible delays and reasons for them. This helps you to take actions without losing time.
Algopron predicts the departure time (PDT) based on turnaround operations. This also helps you indicate correct delay times.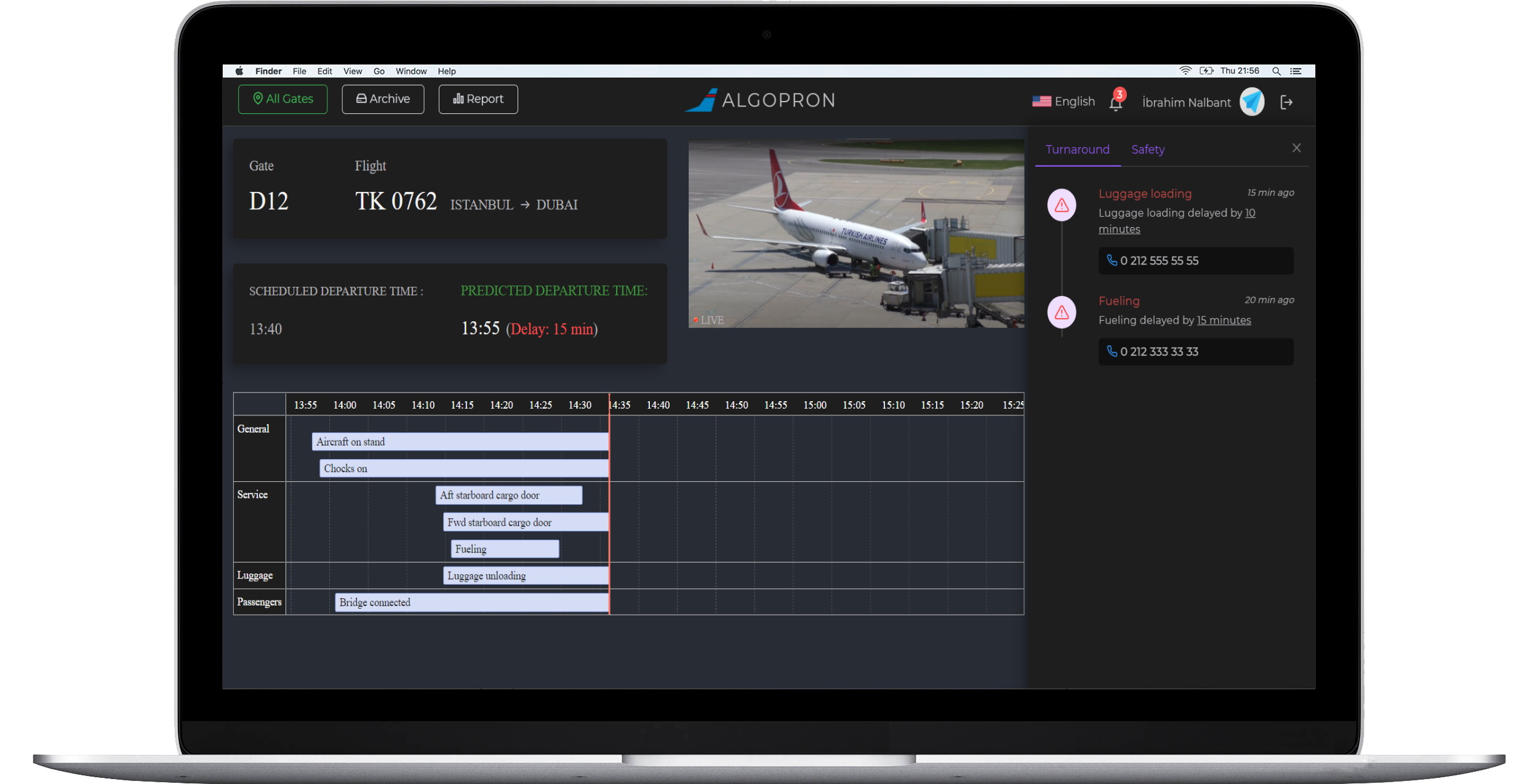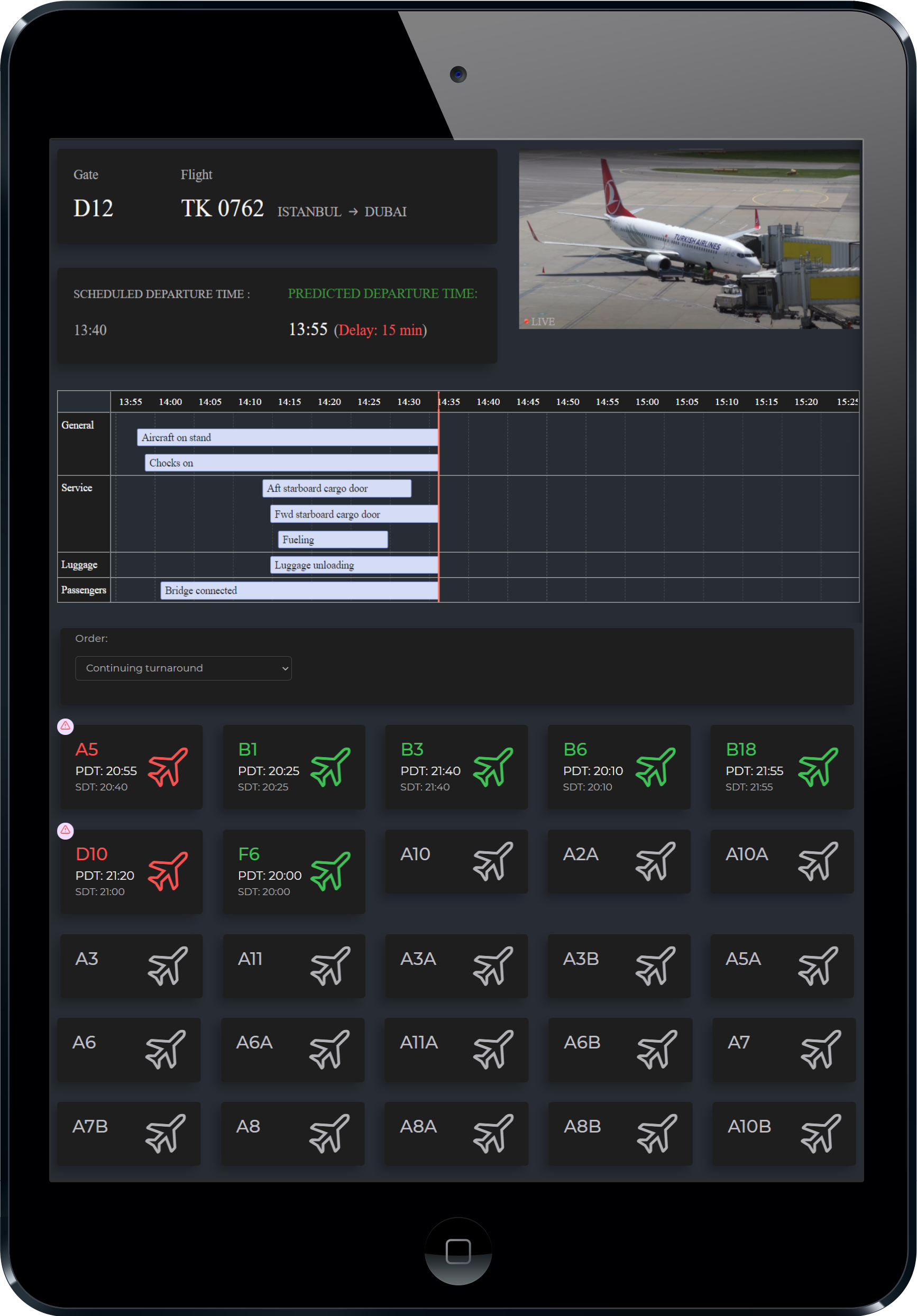 Mobile Operator Panel
With mobile friendly interface turnaround operations are in the hands of operating staff. Real-time reports about turnaround operations from all stands can be managed and monitored by your operating staff using mobile devices.
Interactive Map
Algopron's interactive maps display all airplanes that present in the airport with their exact positions. Moreover, airplanes with on-time turnarounds are indicated with green icons, while the ones with delays are indicated with red icons.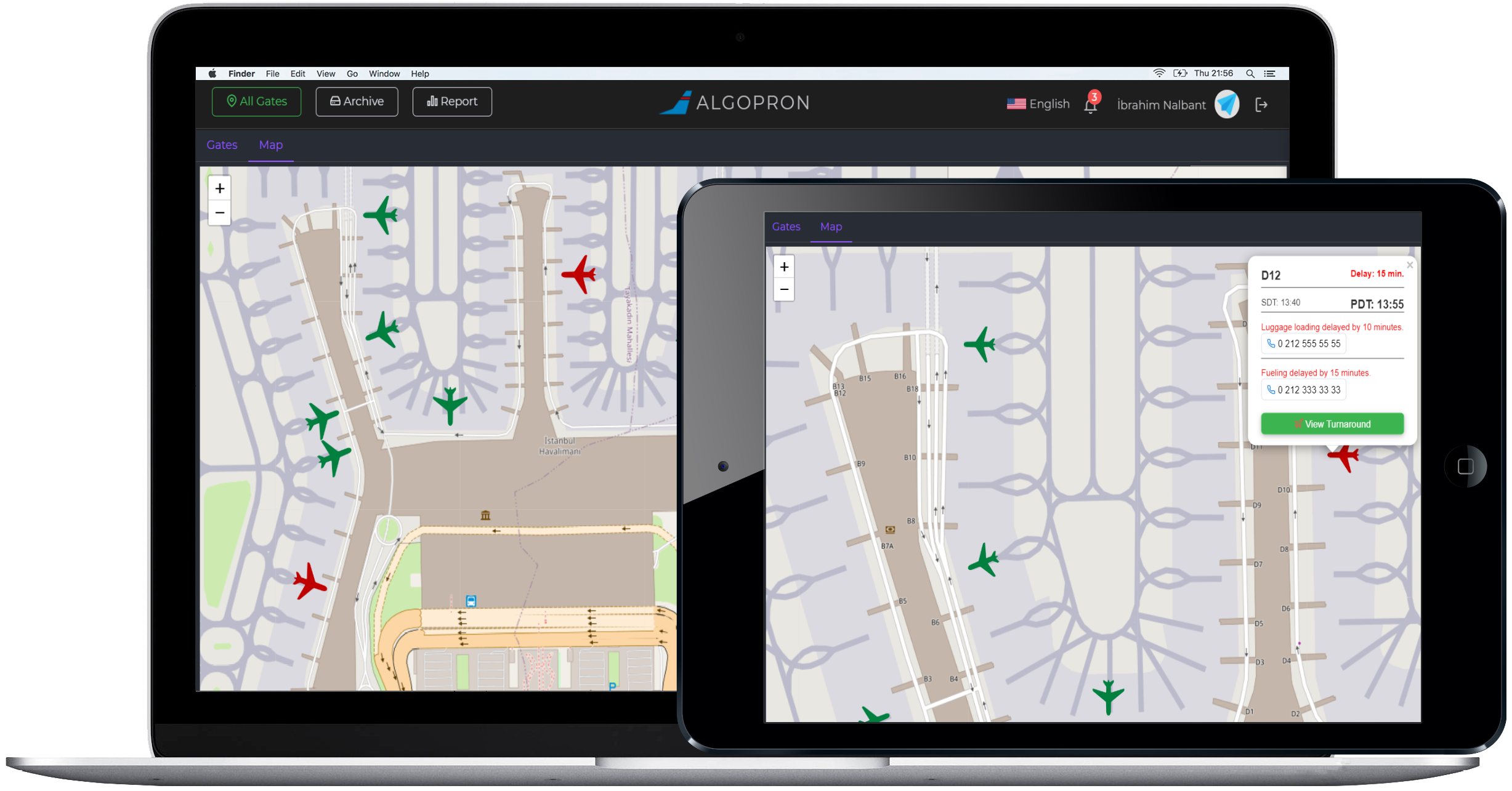 Contact Us
Have a question or want to get a quote?
Feel free to contact us by using information below.
Adress:
Adalet District, Anadolu Street No:41 Megapol Tower, floor:8 Bayrakli - Izmir
Email: infoalgopron.com
Please feel free to write an email to us for either support or any inquiries you may have.
Telephone: +90 232 700 11 70
You may call us for any inquiries during working hours: Monday-Saturday, 09:00-18:00